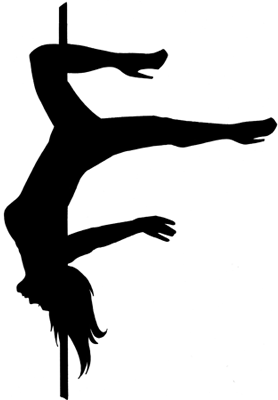 Diamond Divas: Ladies, you've all seen that pole in posh clubs and major movies, now learn what to do with it. We won't have you hanging upside down by your ankles (like the picture!), but you'll learn some sexy moves that are certain to impress your friends!
This one hour class is held in Madame X's private upstairs lounge and you can choose either two free drinks from our Foreplay menu, or one bottle of house champagne for every three girls participating. Please let us know which you would prefer when booking.
Hour long class,  $75 per Diva ($65 for parties of 12 or more).
Dress: Please wear or bring an extra top and bottom for your class. These additional layers will allow you to get the full striptease experience. Many Divas chose to wear swimsuits or workout clothes as a bottom layer.
Terms and conditions: We have a 48 hour cancellation policy. Parties canceled after that period will be charged a $150 fee, or $200 if the Diva Instructor has already arrived at the venue. If you arrive late for your event we may be unable to make up for the missed time. If the class starts more than a half hour later than the designated start time through no fault of the Instructor or venue, there will be an additional $25 per half hour charge added to the total fee.
Please note that all Divas must be 21 or older. There is a minimum rate of $375 for this event. Parties of 5 or fewer will be subject to this rate.
Home Divas
|
Cocktail Divas
|
Diamond Divas
|
Alterna Divas